Your Expert Sidewalk Repair Contractor in Queens
Keeping the sidewalks in front of your property is crucial for creating a safe and aesthetically pleasing environment for your customers and clients. With time, sidewalks may crack, become uneven, or degrade in various ways, posing a threat to pedestrians and lowering your home's sidewalk appeal. At Trice Restoration Inc, we specialize as one of the best sidewalk repair contractors Queens has, with high-quality sidewalk restoration services.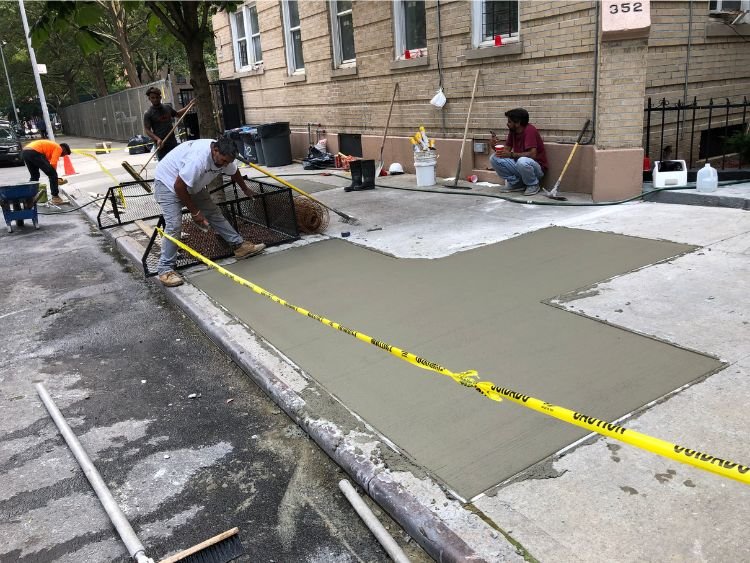 Get Professional Sidewalk Repair Services in Queens
We recognize that the beauty and usefulness of your property's sidewalk are crucial, so we provide various repair services to maintain its pristine shape. Our skilled staff has years of expertise in repairing and maintaining sidewalks. We employ the most advanced equipment and methods to guarantee that your sidewalk is safe, long-lasting, and aesthetically pleasing.
Among all the Sidewalk Repair contractors of Queens, We are one of the best when it comes to sidewalk repair. Repairing concrete sidewalks requires greater expertise and professional tools, which most contractors in Queens lack. But Trice Restoration comes with the complete package providing the best concrete sidewalks repair Queens has to offer!
We are devoted to offering the finest level of service and craftsmanship to our customers. Our team is competent, experienced, and committed to completing your sidewalk repair job on time and under budget. Also, we provide cheap pricing and flexible scheduling, allowing you to get the necessary services without breaking the bank.
If you're looking for Expert sidewalk Contractors in Queens, look no further than us. We look after all your requirements and needs when it comes to Sidewalk repairs. Any cause of your sidewalk damage, we have got you covered! Here are some more reasons for you to choose us over other contractors:
Top Concrete-Based Services
If your sidewalk is composed of concrete, we can offer professional repair services to correct any damage or deterioration. If required, we may replace whole parts of your concrete sidewalk in addition to repairing cracks, holes, and other sorts of damage.
Well Reputed Sidewalk Repair Services
It can be hard to find the perfect sidewalk cracks repair in Queens, but lucky for you since there isn't anyone better than us for the job! They are one of the most renowned Sidewalk Repair contractors of Queens, and they excel at all things sidewalk!
One Solution To Many Problems
Age, weather conditions, and excessive foot activity are all problems that contribute to the development of cracks. At Trice Restoration Inc, we have the ability to fix damages of any size or kind, so you can rest confident that your sidewalk is secure.
Optimal Sidewalk Repair
Uneven sidewalks may provide a tripping danger to pedestrians, resulting in accidents and legal concerns for your property. Our team employs cutting-edge methods and equipment to level your sidewalk fast and effectively, allowing you to return to the property as usual.
Best Tools And Techniques
Sidewalk leveling can be a tricky job if done without proper expertise and tools, and improperly leveled sidewalks give way to a number of risks and dangers, significantly endangering the people walking over them. So the best way to deal with this problem is to contact Trice Restoration Inc one of the best Sidewalk Repair contractors in Queens.
Expert Team Of Professionals
Our team of contractors at Trice Restoration Inc. come with years of experience in sidewalk repair under their belt. They are industry professionals with the proper know-how of everything sidewalk related!
Trice Restoration Inc is the best contractor for all of your Queens sidewalk repair requirements. From repairing concrete sidewalks to leveling uneven surfaces, we have the knowledge and expertise to accomplish the job correctly. We are the most qualified mason contractor. As we have the skills and understanding to handle any sidewalk repair job.
We understand that finding a Licensed masonry contractor in Queens can be difficult if you don't know where to look. But you can rest assured when working with Trice restoration inc since they are the best as well as licensed masonry contractors you can find in Queens for all your masonry jobs! As because we are fully insured, you can be confident that your property will be secured throughout the repair procedure. We also utilize the most excellent quality products and tools to assure the durability and longevity of your sidewalk repair.
So, just give us a call immediately for more detailed information on our services and to book a consultation with one of our skilled sidewalk contractors and get satisfied yourself with our services.
Connect with our experts today for your Sidewalk Solutions.
Frequently Asked Questions
What Services Does Sidewalk Repair Contractors Offer?

Sidewalk repair contractors like Trice Restoration Inc offer high-quality sidewalk repair and restoration services.

What Types Of Sidewalk Repair Does Trice Restoration Inc Offer?

Trice Restoration Inc offers repair services for concrete sidewalks, including crack repair and replacement of damaged parts.

Does Trice Restoration Inc Offer Sidewalk Leveling Services?

Yes, Trice Restoration Inc provides sidewalk leveling services for safe and even walking surfaces.

Is Trice Restoration Inc A Licensed Masonry Contractor?

Yes, Trice Restoration Inc is a licensed masonry contractor, ensuring the highest level of professionalism and quality work.