Top Scaffolding Contractor Queens
We at Trice Restoration Inc offer ultimate scaffolding solutions that suit your needs. We offer the ultimate solution for commercial Scaffolding, and our easy and immediate services save your time and effort on construction work with the highest quality equipment in all 5 boroughs of New York.
Whether you need to fix the roof on your commercial building or work on a 12-story office building, Scaffolding gives you a steady platform and ample space to work. When renting Scaffolding, it is essential to choose the correct style to keep the crew safe and complete the job correctly. And that is why we are here for you. With decades of experience as the best Scaffolding installation Company Queens, we satisfy our customers.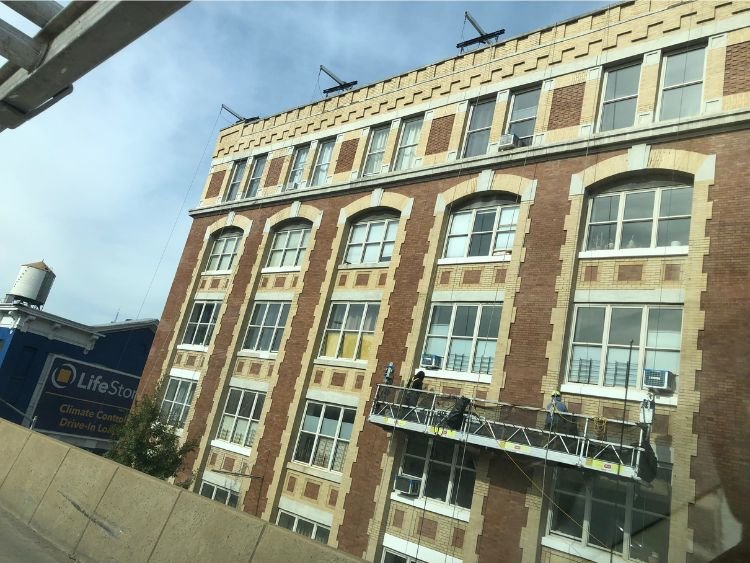 Trice Restoration Inc: The best choice for all your scaffolding needs
At Trice, Scaffolding safety is our priority. To ensure the safety and excellence of your project, we strive for the highest standards. We have reliable, experienced workers that ensure compliance with all safety requirements and regulations. In addition to providing exceptional service and quality work, we place safety at the forefront of everything we do, from new construction projects to high-end demolition jobs. You can rely on us to do it right so your project gets finished promptly and hassle-free. Our Team and staff assist you seven days a week, 24 hours a day.
Our goal is to make your experience working with us exceptional by providing you with skilled, knowledgeable, and eager workers. We listen to your individual needs to meet scaffolding project requirements and work within your budget. We offer more than just Scaffolding for your convenience, and our specialties include siding scaffolding, high ceiling scaffolding, pipe scaffolding, and many other types of Scaffolding.
Our company also handles winter enclosure systems, plywood wall enclosures, and pipe scaffolding stair towers. To ensure your project runs smoothly, we manage all your needs professionally, focusing on safety and efficiency at the worksite. We also offer Scaffolding for siding solutions to meet your needs.
Trice Restoration Inc, Scaffolding Services Offers 6 Great Advantages
HIGH PRODUCTIVITY
At Trice, the productivity is highest when it comes to Scaffolding. Our professionals make sure to provide you the best solution in no time.
STORAGE AND HANDLING
Significant reductions reduce storage, handling, and transportation costs in the total components required. And we make sure, there is no wastage of any cost from any ones end.

SAFETY
Several unique safety features make our Scaffolding for high ceilings ideal for users, erectors, and project inspectors. We ensure complete safety when it comes to Scaffolding.

Versatility and Affordability
Scaffolding can be used for both light and heavy-duty jobs, all thanks to its versatile service offered by Trice. We ensure higher productivity within tight deadlines for high-end construction jobs.

Highly Durable With Lesser Risk
One of the essential advantages of connecting with Trice for Scaffolding is its durability. We provide highly durable services and practical solutions with less risk every time.
Detailed Orientation
Our experts will review each estimate with you during our detailed and thorough on-site consultation. We make sure to check the on-site completely before assuring you of the solution. After a complete analysis of your project, an experienced and skilled professional will take up your problem and will provide you with an immediate solution.
Sidewalk Shed
A sidewalk shed is a temporary structure to protect pedestrians and the public from debris falling during building repairs.
Pipe Scaffolding
Pipe Scaffolding is constructed with pipes erected from the ground up along the side of a building to allow for repairs. You can also use Scaffolding made of lines indoors.
Shoring Systems
Shoring stabilizes an unstable structure or building that may require repairs or additions using heavy-duty frames, posts, beams, and bracing.
Debris Chutes
These are to clean large quantities of debris from buildings and roofs and place them in containers. Trash disposal with them is the fastest, safest, and most efficient method.
Construction Fences
Temporary fencing is used instead of permanent fencing. They are frequently used and required for public safety, protection, and security. The most common structures are made of wire, chain links, and wood.
Concrete Barriers
They are specifically designed to direct and control incoming traffic along the street. Alternatively, jersey barriers can be substituted and available in different sizes.
Connect with our experts today for your Scaffolding Solutions.
Frequently Asked Questions
How is a swing stage different from a suspended scaffold?

A swing stage is another name for a suspended scaffold. At construction sites, you'll often see swing stages. Among the other types are:

The float
With a cantilever
A multi-level structure
Hanging from the interior
Adjustable at a single point
Adjustable from multiple points

How do buck hoists and construction elevators differ?

An elevator that's erected outside or inside a building that's being built is known as a hoist or buck hoist. Both men and materials can be moved with it, and it is also possible to install a buck hoist permanently.

What is the cost of Scaffolding?

Developing a proposal for your project will require us to visit your site and learn about your project. The Scaffolding Solutions team takes the time to understand your requirements for each design. The solution will be "right-sized" for your needs, and you will receive a competitive price.

Do you guys provide engineered shop drawings?

Of course! We have in-house Professional Engineers and a variety of highly-trained consulting engineers capable of designing scaffolding and shoring solutions for the most challenging projects. Scaffolding complex-shaped structures and protecting historic architecture are among our specialties.