Most Experienced Brick Pointing Contractor Queens, NY
Trice restoration is the best contractor for brick pointing in Queens, handling your repairing and construction needs. With our brick-pointing services, you can aesthetically change the look of your property and bring it back to its original look and structure. Be it leaks, cracks, or any kind of damage on the wall, you can get all of them fixed with the best brick pointer in Queens. At Trice Restoration, you will get the best services and satisfaction we strive for.
You can opt for our brick-pointing services in Queens and many more places to repair the interior and exterior of your property. We are always there to provide high-quality services to satisfy your exceeding expectations. Therefore, for top-notch brick pointing services, you should connect with trice restoration INC and easily get your work done.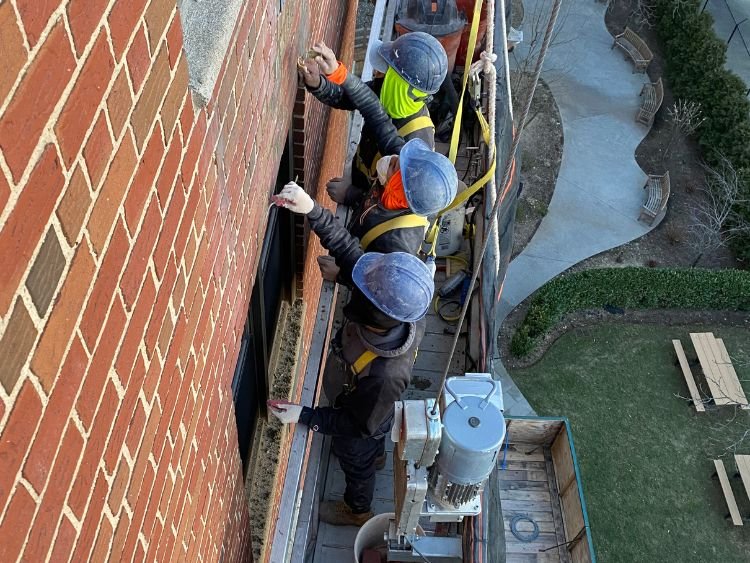 Connect with professional brick pointing experts and get a quotation soon!
Trice Restoration INC makes every effort to satisfy the demands of the clients. The bricklayers and the workers for brick repointing in Queens will look for the damage, assess them properly and finally provide a solution for your brick-pointing requirements. Once the task is appropriately inspected, we offer a list of solutions to our customers. Depending on their acceptance, we deliver high-quality brick-pointing services to our clients.
With Brick Pointing, Trice Restoration can turn your property into one of your area's best-looking and aesthetically pleasing locations. We are one of the best and most prominent brick-pointing company in Queens that has professionals well-skilled in doing perfect project work.
With our materials and products, you can ensure that your commercial property bricks will stay in their place during harsh climate conditions. We ensure no space is left between the bricks for the water to enter to keep the bricks in good condition. Even if the wall gets damaged, do contact us for tuck pointing and get your walls repaired or replaced.
You cannot stop natural calamities from happening, and the consistent water flow through the bricks leads to their damage. Therefore, through their services for brick repointing in Queens, our seasoned contractors and experts ensure that the damage caused on the walls due to natural forces are lessened and that the property stays in its original shape for a longer time.
Pros of considering Trice Restoration INC for brick restoration services
Brick replacement
When you see that your Brick has faced immense damage and must be replaced, you should get them replaced quickly. Else, it might bring in multiple disadvantages to your property. Therefore, you will get the most comprehensive and desired results with the best Brick pointing company in Queens.
Quality cement
For brick-pointing services, cement is an important material. And if there is a compromise in the quality of the cement, the structures would face problems in the running for a longer term. Therefore, with Trice Restoration INC, you will get the highest quality cement for the Brick pointing services.
Timely delivery
Once you deliver the Brick pointing project of your commercial property to us, you need not worry about its delivery. We work day and night to deliver the assignment on time. Being the best contractor for brick repointing in Queens, our workers are always dedicated to satisfying customer demands.
Enhanced tuckpointing
The mortar used in tuckpointing is somewhat different from brick pointing. With the tuckpointing services of Trice Restoration INC, you will get the best property with an aesthetically pleasing appeal without much hassle.
All-day customer support
If you are having any hassle with your project, you can always contact the customer service team. The customer support team of Trice Restoration INC for Brick pointing in Queens is always there to respond to your queries and provide you with effective solutions.
On-site supervision
The site supervision for any Brick pointing project is very crucial to adjudge the progress of the Brick pointing assignment. With us, you will get excellent and interactive supervisors who will always help you to guide you through the tasks which are being performed and provide a detailed report about the progress every day.
Why must you hire us for Brick Pointing services?
The quality and the kind of task completed by Trice Restoration INC are quite obvious to gain the trust of the customers. We are always dedicated to offering the highest quality materials for tuck pointing in Queens and never fail to deliver the project on time. With years of experience, the workers at trice Restoration INC have mastered every aspect of brick pointing.
With Brick Pointing from Trice Restoration INC, you will get everything you need, be it a crack or any damaged area. Therefore, bring back your old and visually appealing look with Trice Restoration INC.

Connect with our experts today for your building contractor Solutions.
Frequently Asked Questions
Why is Brick Pointing important?

Brick Pointing is an essential aspect of every property, and it helps ensure that your bricks work properly without damage or crack.

How long should Brick Pointing last?

If you are hiring Trice Restoration INC to get brick-pointing services, you won't have to worry about the product's longevity. Tuck pointing can last for a very long time.

What is tuckpointing?

Tuckpointing is similar to Brick pointing, but the type of mortar used differs slightly. Tuckpointing uses a strong type of mortar.

How many types of pointing are there?

There are different kinds of pointing services available.

Brick Pointing.
Tuck Pointing.
Flush Pointing.
Recessed Pointing.
Beaded pointing.
Struck Pointing.
Weathered pointing.

And many more.