Top Sidewalk Repair Contractor New York City
We at Trice Restoration Inc. have been providing effective solutions for repairing shifting, cracked, and settled concrete without having to replace it entirely. We assure quality solutions for your commercial, industrial and institutional concrete sidewalk projects. 
As licensed sidewalk repair contractors NYC, we are highly experienced in repairing and restoring your sidewalk. Our attention to detail and thorough inspections ensure flawless work, no matter how large or small your requirements may be. Our team at Trice Restoration Inc offers excellent quality at a reasonable cost, regardless of the task, such as repairing a trip hazard or restoring an old sidewalk.
Our passion is to ensure that your concrete sidewalk or walkway remains intact and level so that your home or business is maintained and falls and injuries are prevented. We can provide a variety of commercial Sidewalk repair solutions, which include:
70% reduction in replacement costs

Our technicians have accumulated years of experience

Whether the job is large or small, we are not selective

We use eco-friendly materials and processes

sidewalk contractors new york with full insurance

Our concrete leveling equipment is patented and state-of-the-art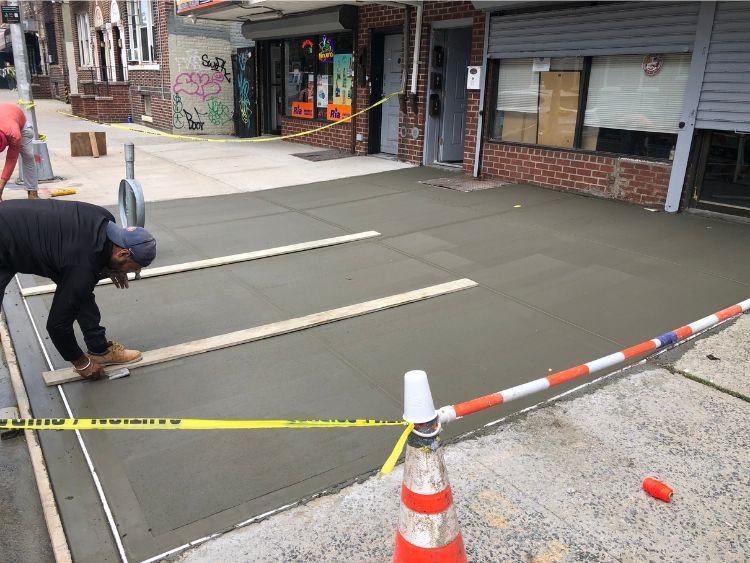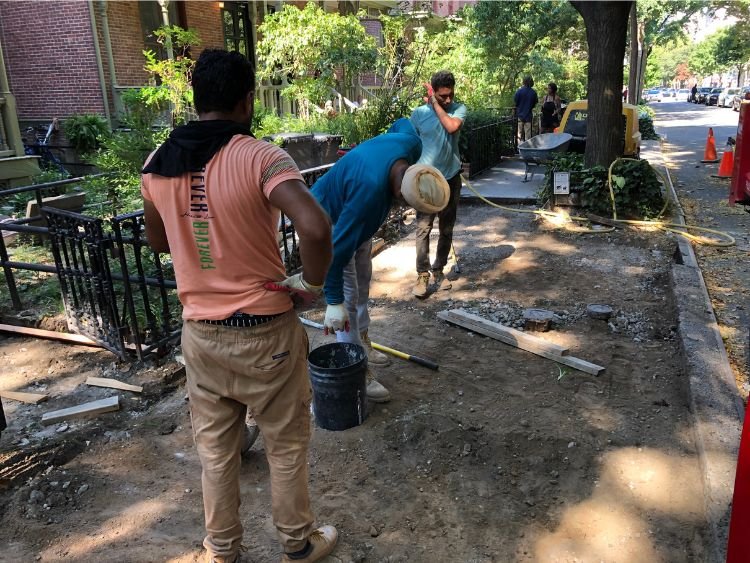 Ensuring the highest standards with Complete customer satisfaction
We have the skills and experience to diagnose your sidewalk leveling issues and its cause, repair damaged sidewalks for residential buildings, and prescribe a particular solution. 
We usually repair concrete sidewalks at a fraction of the cost of replacing them. Our concrete sidewalk repair process is efficient and high-quality, and in most cases, it can be used immediately.
Uneven sidewalks
There are several reasons why sidewalks can become out of level. Concrete sidewalks that are sunken or uneven are generally caused by water. A reliable
commercial concrete sidewalk repair
company like Trice Restoration Inc. will always recommend ways to keep concrete sidewalks and walkways from sinking in the future when assessing.
Repairing sidewalk cracks
Another common issue is cracking. There are all kinds of sidewalk cracks; some are just eyesores, and others are safety hazards. Sealing, caulking, or leveling can fix many cracks in sidewalks without replacing them. We are proud to be providing concrete resurfacing for high-rise apartments.
Sealing and Caulking
Sealing and caulking your concrete sidewalks and walkways dramatically reduces the water's ability to penetrate the surface, increasing both their beauty and lifespan. Pressure wash the surface before applying a sealant to lift and remove contaminants. After the concrete cracks are caulked with long-lasting caulking, water cannot penetrate within or beneath the concrete.
Leveling of a sidewalk
Cracks may cause parts of a concrete slab to become uneven. Apart from providing a solution for Repairing the Broken Sidewalk, it is also possible under the slab to raise it to flush with the other side and close the crack. There is a way to eliminate a trip hazard without a long, grueling, expensive replacement project.
Fixing a Raised Sidewalk
It is often the case that an uneven sidewalk results from a slab being raised rather than sunk. When left untreated, this can pose a hazard as well. You can replace the slab if a tree root or another object pushes up on it. Raising the slabs on either side of the affected slab will repair most raised sidewalks faster and more economically.
Leveling Up Your Sidewalk
An experienced professional can level the surface to create an even slope, avoiding replacement while thoroughly resolving the issue. Sometimes, an uneven sidewalk can resemble a teeter-totter, with a lift on one end and a sink on the other. Using the right tools and experience, a professional leveler will know exactly where to drill holes and fill precisely to raise one side back to its original height.
Why Choose Trice Restoration Inc?
At Trice Restoration Inc, we are dedicated to three core values. 
Quality
We provide top-quality stonework, masonry, and concrete renovations and repairs. The team at our company is fully dedicated to providing only the best service, from a careful assessment of damage to providing exquisite finishing touches that blend naturally into the surrounding facades.
Consistency 
Trice Restoration Inc. completes every job with exceptional consistency, whether it's a repair, restoration, or installation. The concrete specialists on our team take pride in their work.
Satisfaction
With years of experience in all kinds of projects, big and small, we can perform repairs, restorations, and installations and provide innovative solutions to satisfy our customers.
Full-Service Concrete Repair
Concrete walkways and sidewalks are probably not something you think about very often, until something goes wrong. In the same way as any other infrastructure supporting your property, concrete issues gradually worsen, and property owners often need to notice these subtle changes over time. Unaddressed hazards will eventually cost more to repair.
You can trust Trice Restoration Inc to restore concrete sidewalks and walkways once you notice a problem. A proactive approach to addressing these issues results in a cost-effective solution and a higher return on investment. You protect yourself and your investment from accidental injuries (and costly damages) and increase the value of your home. We also ensure solutions for Sidewalk violation removal in NYC. 
Cost-Effective Safety Solutions
Trice Restoration Inc is proud to offer our services in compliance with HUD and ADA standards, protecting you against liability claims related to sidewalk conditions or accessibility injuries sustained by employees or customers with disabilities. As a result of our work, you will receive excellent REAC scores, boosting the property's public image and extending the time between HUD inspections from two to three years – all without spending a dime more than you would otherwise!
Expert Concrete Contractors
Although we specialize in sidewalk repairs, we also offer concrete services. We have previously built driveways and walkways for residential and commercial customers. Your property can gain significant value from these projects. Our goal at Trice Restoration is to complete concrete projects promptly and cost-effectively.
Connect with our experts today for your Sidewalk Solutions.
Frequently Asked Questions
Is it okay to remove the sidewalk?

It is not possible to remove the sidewalk. An encroachment permit and permission from the city are required when removing, blocking, changing, or repairing a pedestrian facility once it is constructed.

Do I need a permit to repair my sidewalk?

Obtaining an encroachment permit to work on the right-of-way of a public road is necessary. As a result, the work is performed according to applicable construction codes and standards.

How can I get this work done?

You should hire a licensed concrete contractor. It is possible to hire an individual worker or do the work yourself, but make sure whoever does the job is skilled in this field. The work must be removed and reconstructed if it meets code requirements.

How is DOT sidewalk violation repair handled in NY?

Property owners receive a sidewalk violation notice from NYC DOT when their sidewalk is defective. If a property owner performs sidewalk work related to a violation or has an active Curb Repair Contract, the city will repair or replace the curb for free.