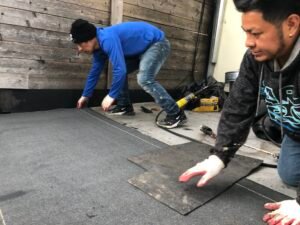 If you are wondering how much will a roof repair cost or if you should wait a few more days, let us tell you that whatever your dilemma is about, repairing your roof is necessary. You may still be lucky that you do not need a complete replacement which is a labor-intensive and time-consuming project. When you call a reliable roof repair contractor Queens, be assured that you do not have to worry about the roof for a very long time!
Contributing to the retention of structural integrity and strength of a building, the roof must be well-maintained with periodic inspections and early action to damages. Whether you have a tile, shingle, metal, or slate roof, it will encounter defilement over a period. The process is natural, and there is no need to fuss about it! All you have to do is not ignore the early signs of damage and act promptly.
You cannot prevent the harsh impact of extreme temperatures, storms, moisture, and other natural calamities, but you can escape elaborate roof replacement services when you are serious about controlling damage! A good roof repair job can extend the life of your roof. And we are here to discuss- how? 
Common Roof Damages
Most roof damage occurs due to excessive moisture exposure. Rain or snowfall, precipitation in any form is a threat to the roof of your building. We have pointed out the most common areas of roof damage requiring licensed roof repair. Let's have a look.
Shingles-

Cracking, warping, and crumbling

are prevalent in any shingle. You can also spot corrosion in metal shingles. Temperature fluctuations cause expansion and contraction in the shingle material leading to cracks and other problems. These gaps allow water seepage into the interiors, degrading the structure. So leaks and dampness are unavoidable. Also, shingles can blow away with strong winds or crackle due to physical impact.
Flashing-

The metal lining running through the roof perimeter can corrode, break, or become blocked. Hence, rainwater starts seeping through the walls resulting in damp patches, peeling paint, and gradual weakening of the structural integrity. You must call a

roof repair contractor Queens

, to fix flashing problems and restore your building's health.
Pipe Boots-

The ventilation pipe that comes out through the roof deck is called a pipe boot. Generally made of plastic, rubber, or metal, these boots often develop cracks and rust due to constant heat, light, and moisture exposure. So you have another entry point for water infiltration. 
Roof Repair: The Solution to Extend Roof's Life
After a thorough inspection of your roof by roofing repair contractors, they propose the best solutions to fix the damage effectively. These licensed and insured contractors are well-equipped and trained to manoeuvre complex projects through their extensive knowledge and experience. Aiding the most appropriate fix helps in:
Damage Control-

Preventing the expansion of damage is the foremost priority of any professional roofing contractor. When you can restrict the severity of impairment, the majority of the job is already done! To be precise, a timely repair can save your roof from witnessing havoc like a sudden collapse!
Restore Strength and Stability-

Repair solutions proposed by

roof repair companies

help restore the integrity and strength of the roof. As all the damages are fixed, water cannot reach the deeper layers causing structural degradation. It prolongs the service life of your roof.
Increase Functionality-

Any damage compromises the roof's functionality. It adversely affects energy efficiency. However, with correct repair measures, your roof is now capable of offering improved insulation and a healthier living environment.
So, are you still confused about whether to execute the roof repair job?